Bullied Dad Is One Of World's Heaviest Men, In 7 Months He Changes His Body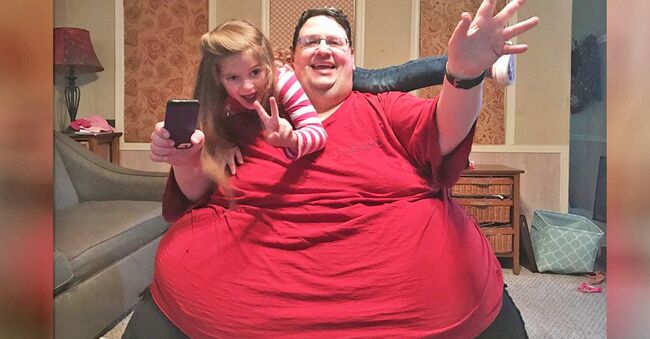 Sean Mulroney is considered one of the world's heaviest men, weighing in at 687 pounds. Sean's journey is a painful and heroic one. The father from St. Louis, Missouri, managed to battle drug addiction and alcoholism in his 20s.
He is even a motivational speaker, touring schools to teach teenagers about drug addiction. However, the way Sean coped with his recovery was by turning to food. Doctors warned that Sean could suffer from diabetes or heart disease if he continued.
Determined to be there for his three daughters, Madison, Olivia, and Mackenzie, Sean decided to change.
"There are no excuses for where I got. I didn't get here by breathing air and drinking water," Sean told SWNS. "I ate fast food every day. For lunch I would go to McDonald's and have a Big Mac supersize meal."
The weight gain wasn't only due to poor health choices, as cellulitis caused him to pack on the pounds as well.
"All the way through college I was fine but then I fell ill with cellulitis… I had the infection 17 times and I ended up gaining 200 two 250 pounds because the fluid packed up in my leg and I struggled to walk," he said. "Combined with my bad lifestyle, my weight reached 687 pounds last March."
While Sean still has a ways to go, he has lost 102 pounds in just seven months. He goes to gym three days a week and makes healthier food choices.
"So far I've lost the weight of all three of my daughters combined. I'm doing this for them. I want to be there for them. I was not healthy," he said. "I want to be able to take them to an amusement park on the roller coasters and go to the beach with them and do those things."
We're certain that this father will continue to be a hero to his little girls.
"Losing the first 100 pounds has totally changed my life. I want to inspire other people who are hiding in the shadow of morbid obesity and are not willing to come out," he said.
Please SHARE this stunning transformation with your family and friends on Facebook!