[VIDEO] Kawehi, Musician from Hawaii Making Internet Waves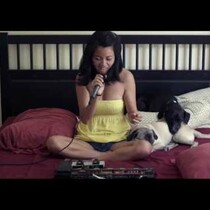 Meet Kawehi, born and raised in Hawaii, now living in Kansas. She makes full blown music videos and writes songs with only her vocals for an instrument. Using digital loops, she covers Michael Jackson, Nirvana and even writes her own music.
TCS - Robot Heart: Heart-Shaped Box - Nirvana (covered by Kawehi) from Kawehi on Vimeo.
Read more about Kawehi on Pitch.com